Δηλώσεις
Steve Jobs' family have provided the following statement:
Steve died peacefully today surrounded by his family.

In his public life, Steve was known as a visionary; in his private life, he cherished his family. We are thankful to the many people who have shared their wishes and prayers during the last year of Steve's illness; a website will be provided for those who wish to offer tributes and memories.

We are grateful for the support and kindness of those who share our feelings for Steve. We know many of you will mourn with us, and we ask that you respect our privacy during our time of grief.
CEO Tim Cook just issued the memo below internally to the company:
Team,

I have some very sad news to share with all of you. Steve passed away earlier today.

Apple has lost a visionary and creative genius, and the world has lost an amazing human being. Those of us who have been fortunate enough to know and work with Steve have lost a dear friend and an inspiring mentor. Steve leaves behind a company that only he could have built, and his spirit will forever be the foundation of Apple.

We are planning a celebration of Steve's extraordinary life for Apple employees that will take place soon. If you would like to share your thoughts, memories and condolences in the interim, you can simply email rememberingsteve@apple.com. No words can adequately express our sadness at Steve's death or our gratitude for the opportunity to work with him. We will honor his memory by dedicating ourselves to continuing the work he loved so much.

Tim
Tim Cook, CEO of Apple
"No words can adequately express our sadness at Steve's death or our gratitude for the opportunity to work with him. We will honor his memory by dedicating ourselves to continuing the work he loved so much."
Disney CEO Bob Iger:
Steve Jobs was a great friend as well as a trusted advisor. His legacy will extend far beyond the products he created or the businesses he built. It will be the millions of people he inspired, the lives he changed, and the culture he defined. Steve was such an "original," with a thoroughly creative, imaginative mind that defined an era. Despite all he accomplished, it feels like he was just getting started. With his passing the world has lost a rare original, Disney has lost a member of our family, and I have lost a great friend. Our thoughts and prayers are with his wife Laurene and his children during this difficult time.
The following should be attributed to AT&T Chairman and CEO Randall Stephenson:
"We are saddened by the passing of Steve Jobs. Steve was an iconic inventor, visionary, and entrepreneur, and we had the privilege to know him as partner and friend. All of us at AT&T offer our thoughts and prayers to Steve's wife, family, and his Apple family."
Eric Schmidt, Google executive chairman:
"Steve defined a generation of style and technology that's unlikely to be matched again. Steve was so charismatically brilliant that he inspired people to do the impossible, and he will be remembered as the greatest computer innovator in history."
Dick Costolo, Twitter chief executive:
"Once in a rare while, somebody comes along who doesn't just raise the bar, they create an entirely new standard of measurement."
Om Malik, GigaOm founder:
"For many of us who live and die for technology and the change it represents, he was an example of what was possible, no matter how the chips were stacked against you. Jobs put life and soul into inanimate objects. Everyone saw steel, silicon and software; he saw an opportunity to paint his Mona Lisa. People saw a phone; Steve saw a transporter of love. People saw a tablet; he saw smiles and wide-eyed amazement. They made computers; he made time machines that brought us all together through a camera, screen and a connection."
Bill Gates
"The world rarely sees someone who has had the profound impact Steve has had, the effects of which will be felt for many generations to come. For those of us lucky enough to get to work with him, it's been an insanely great honor. I will miss Steve immensely."
President Barack Obama
"The world has lost a visionary. And there may be no greater tribute to Steve's success than the fact that much of the world learned of his passing on a device he invented. Michelle and I send our thoughts and prayers to Steve's wife Laurene, his family, and all those who loved him."
Larry Page
"I am very, very sad to hear the news about Steve. He was a great man with incredible achievements and amazing brilliance. He always seemed to be able to say in very few words what you actually should have been thinking before you thought it. His focus on the user experience above all else has always been an inspiration to me. He was very kind to reach out to me as I became CEO of Google and spend time offering his advice and knowledge even though he was not at all well. My thoughts are with his family and the whole Apple family."
 Sergey Brin
"From the earliest days of Google, whenever Larry and I sought inspiration for vision and leadership, we needed to look no farther than Cupertino. Steve, your passion for excellence is felt by anyone who has ever touched an Apple product (including the macbook I am writing this on right now). And I have witnessed it in person the few times we have met. On behalf of all of us at Google and more broadly in technology, you will be missed very much. My condolences to family, friends, and colleagues at Apple."
Mark Zuckerberg
"Steve, thank you for being a mentor and a friend. Thanks for showing that what you build can change the world. I will miss you."
Mike Shinoda (Linkin Park)
(Hybrid Theory writing session, Apple Computer, circa 1998)

My family's first computer was an Apple (a IIe, I think).  I remember learning to type on it, playing a game that calculated your words-per-minute.  My mom was studying to be a court reporter, and she could type very quickly; I would peck at letters with my two index fingers as fast as I could to see if I could get a score half as good as hers.

At the time, my Dad worked in aerospace engineering, and was impressed with the durability of the computer at work, so he decided to get one for the house.  The whole family shared time on it, working and playing.  I remember using it to write reports, and play games like LOGO, Loderunner, and Gold Rush.  As I got older, my interestes changed, and my time on the "Macintosh" was eclipsed by a Nintendo, and later a Sony Discman.

In college, I was reintroduced to Apple in a new way.  Having spent years honing my skills drawing and painting, I hadn't yet had the chance to bring those illustrations into the computer.  At Art Center, there was a computer lab–a huge underground complex of rooms filled with computers.  And the computer of choice for the designers and artists at Art Center was Apple.  I loved the design, inside and out, and it seemed built for making art.  And once it was my computer for art, it became my computer for music.

It's hard to think of all the ways that Steve Jobs' vision has built a foundation for the products on which I work and create: Apple products have been used in making every piece of music Linkin Park has ever written, every album cover or poster we have ever designed, and all our music videos, ads, LPTV, and websites.

From the creation of our songs, art, and videos to the devices our fans enjoy them on, Steve Jobs' vision has made an indelible imprint on everything we do. Multiplying that out into all the other bands and artists in the world who also use Apple products to write and record their songs or edit videos, movies, TV shows, art and photos, it's hard to imagine anyone who has played a bigger role in shaping the world of modern art and music.

Thank you Steve Jobs,

-m
Videos
Apple Steve Jobs The Crazy Ones
Apple's WWDC Keynote 1997
CultOfMac – Steve Jobs tribute
Ελληνικά sites
Lifo: ThereOnceWasAKing*
Γιατί η δύναμη της φαντασίας όταν εξερευνηθεί και μετουσιωθεί σε πραγματικότητα γίνεται επαναστατική.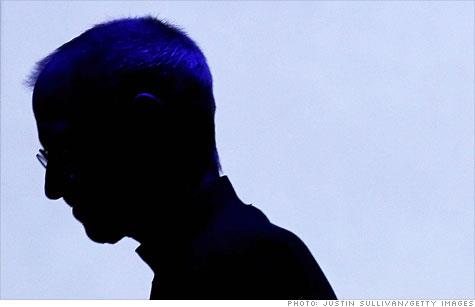 Όπως θα έχεις ήδη μάθει ο ιδρυτής της Apple Στηβ Τζόμπς πέθανε πριν λίγες ώρες.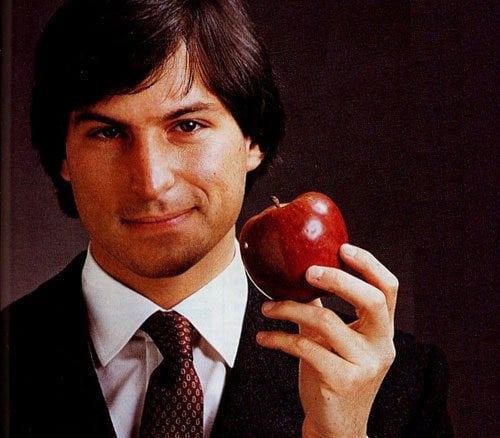 Το νέο της αναγγελίας του θανάτου του όπως ήταν αναμενόμενο διαδόθηκε σε χρόνο ρεκόρ από τα παραδοσιακά αλλά κυρίως από τα ψηφιακά μέσα.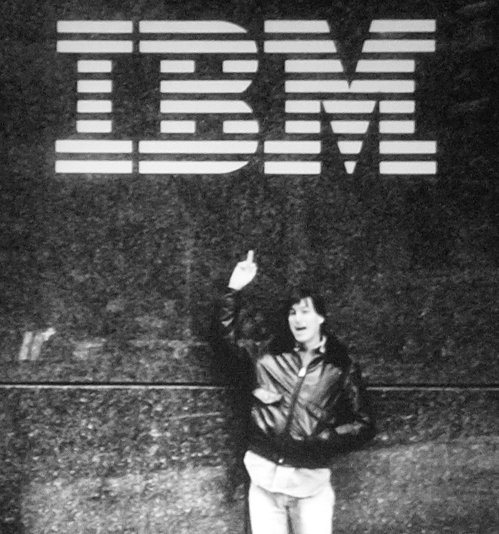 Συντέλεσε άλλωστε καθοριστικά στην παγκόσμια ψηφιακή υφή της πραγματικότητας μέσα στην οποία κυκλοφορούμε σήμερα.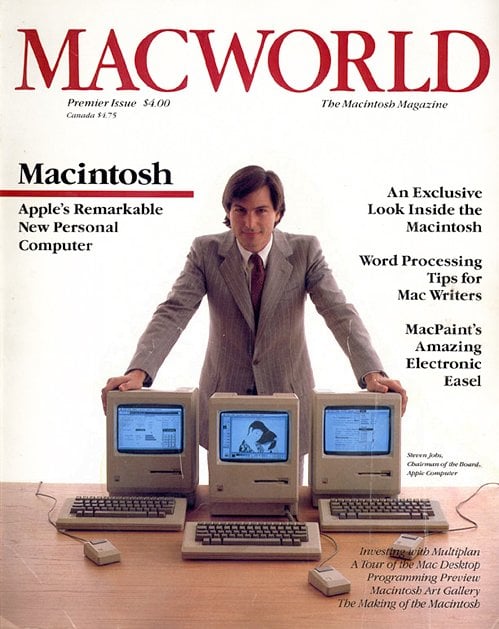 Υπάρχει κάτι σχεδόν κυτταρικά δημοκρατικό στην αμερικάνικη επιχειρηματική κουλτούρα δημιουργίας προϊόντων πάσης φύσης.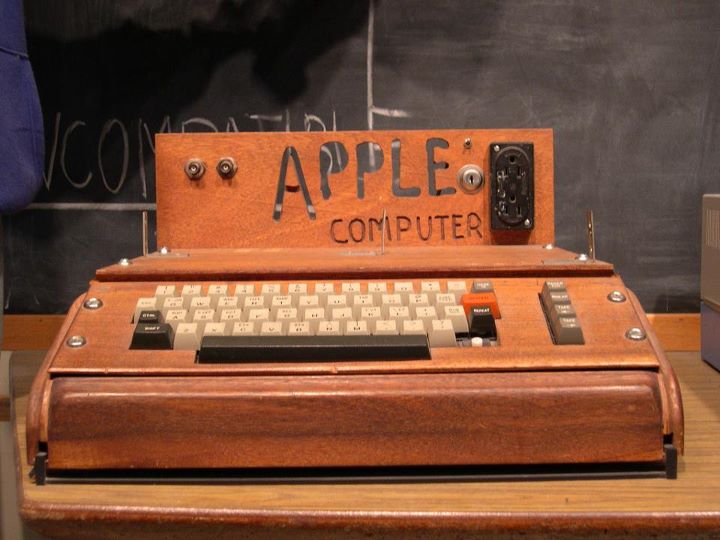 Από το χάμπουργκερ και τη κόκα κόλα μέχρι τα windows, το i-phone και το facebook ο μέσος αμερικάνος και κατ' επέκταση ο παγκόσμιος καταναλωτής τους πείθεται παρ' ολη την απόκλιση στις τιμές πως αυτό το προϊον είναι κάτι μαζικό, δεν κρύβει κανένα ελιτισμό,  τον αφορά και του ενορχηστρώνει την καθημερινότητα με ένα τρόπο που του επιτρέπει να διατηρεί την ψευδαίσθηση πως αυτό που κατέχει κρύβει μιαν ασύγκριτη δύναμη.
Την δύνατότητα να του εξασφαλίσει τη δικιά του προσωπική έκφραση (παρ' όλο που το ίδιο το κατέχουν εκατόμμυρια άλλοι).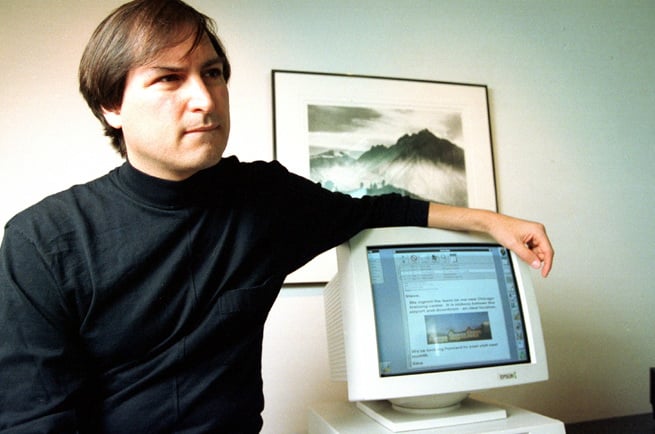 Η επιτυχία βέβαια του Τζόμπς ήταν πως κατάφερε να εγχύσει σε όλο αυτό το κολοσσιαίο επιχειρηματικό οικοδόμημα που έφτιαξε κάτι από την μεταφυσική ορμή της νεοτητάς του, αυτή την κυκλωνική διάθεση αλλαγής του κόσμου που είχε ως όραμα όταν ξεκίναγε και που τελικά παρατηρώντας τι άφησε πίσω του νιώθεις (ακόμα και αν δεν ανήκεις σε αυτό που ονομάζουμε apple groupies) πως το κατάφερε και το κατάφερε συγκλονιστικά.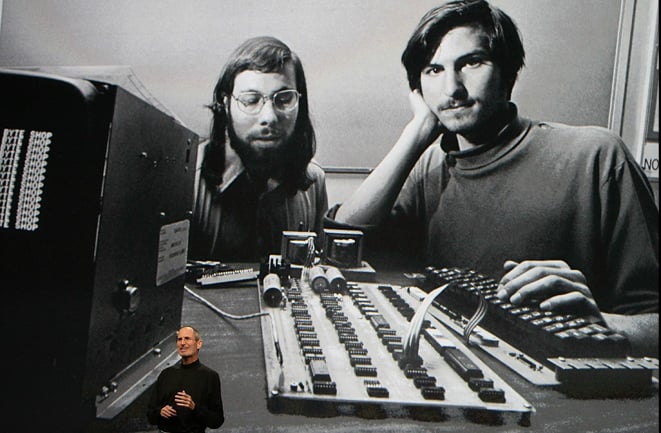 Νομίζω πως ο Τζόμπς υπήρξε πάντα ένας εξερευνητής. Και αν θυμηθούμε αντίστοιχες περιπτώσεις από την παιδική μας ηλικία όταν αρχίσαμε να συνειδητοποιούμε τι μας αρέσει και τι μας συγκινεί αυτό που ονομάζουμε εξερευνητής κατέχει κεντρική θέση έχω  την αίσθηση.
Ο εξερευνητής είναι ο αρχετυπικός ρομαντικός. Όσα κυβικά προσωπικής ιδιοτέλειας και να κουβαλά ύπαρχει κάτι βαθιά ρομαντικό σε αυτή την αναζήτηση μέσα στο άγνωστο μέχρι να ανακαλύψει αυτό το οποίο ψάχνει. Οτι και να είναι αυτό.
Γιατί η δύναμη της φαντασίας όταν εξερευνηθεί και μετουσιωθεί σε πραγματικότητα γίνεται επαναστατική.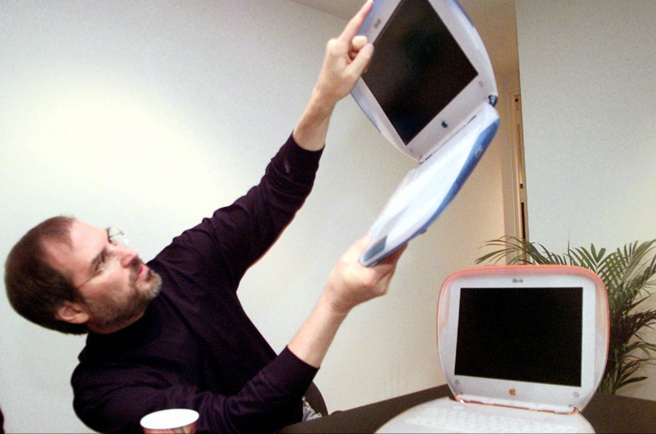 Ο Τζόμπς πέτυχε να επηρεάσει με την αχαλίνωτη φαντασία του εκατομμύρια ανθρώπους παγκόσμια. Και το κατάφερε με ένα τρόπο ύπαρξης θετικό.
Στο μέλλον έχω την αίσθηση πως θα αποτιμηθεί ως ένας από τους μεγάλους επιδραστικούς της πρώϊμης φάσης της αρχής της ηλεκτρονικής εποχής.
Μπορεί να μη πρόλαβε να ζήσει πολύ άλλα για όσο έζησε κατάφερε να ορίσει την εποχή στην οποία δραστηριοποιήθηκε.
Με την απελευθερωμένη μουσική της αχαλίνωτης φαντασίας του.
bonustrack
Άλλο ένα χαρακτηριστικό που σε κάνει να καταλαβαίνεις πόσο βαθιά επιδραστικός είναι κάποιος είναι οι αντιδράσεις όσων επηρέασε όταν αυτός πεθάνει.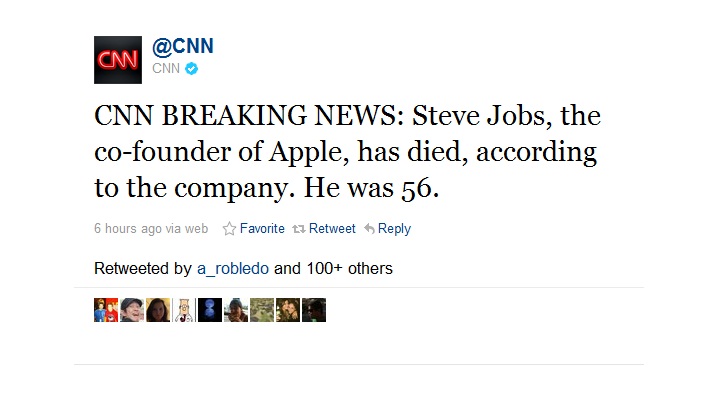 Παρατηρώντας απ' την ώρα που έμαθα την είδηση την μάζα  των ανθρώπων που εκφράζουν τα συναισθηματά τους μέσα από τα social media  για το θάνατο του ιδρυτή της Αpple μου έχει κάνει εντύπωση η ποικιλομορφία τους.

Τech geeks, συγγραφείς, fashion people, pornstars, εικαστικοί, στελέχη επιχειρήσεων, hipsters, media people (από το Vanity Fair μέχρι Τα Νέα Του Ψαροντούφεκου;-) και γενικότερα κάθε πιθανή και απίθανη φυλή εκδηλώνει με τον τρόπο της τη θλίψη της για την απώλεια του Τζόμπς.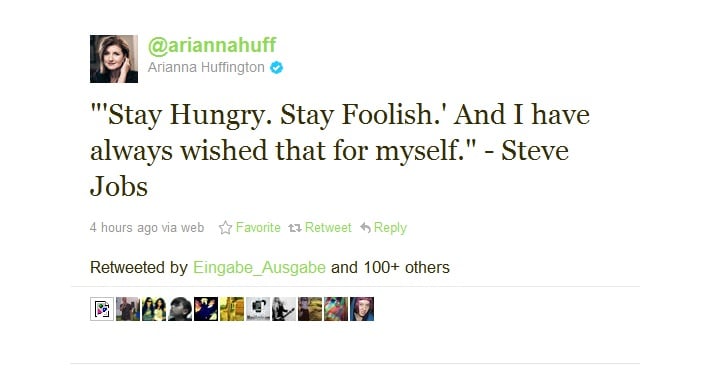 bonustrack 2
ο Στηβ Τζόμπς και ο Steve Wozniak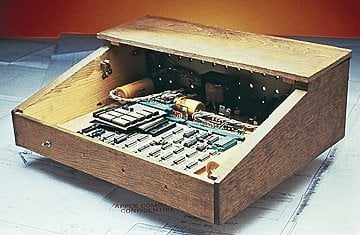 o πρώτος Apple computer
το πρώτο διαφημιστικό της Apple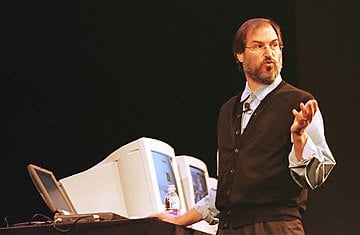 η θριαμβευτική επιστροφή του στην Apple το 1997
το κλασσικο (πια) iPod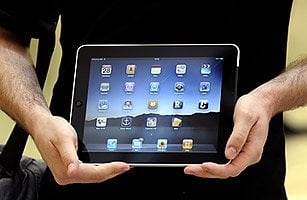 το iPad, το τελευταίο του δημιούργημα